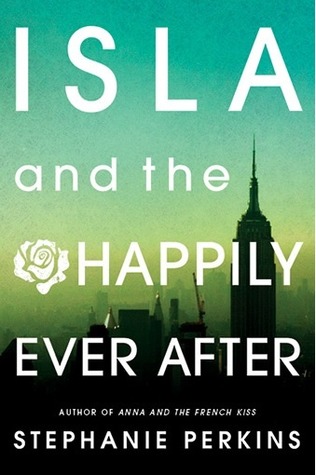 Book Summary :
Love ignites in the City That Never Sleeps, but can it last?
Hopeless romantic Isla has had a crush on introspective cartoonist Josh since their first year at the School of America in Paris. And after a chance encounter in Manhattan over the summer, romance might be closer than Isla imagined. But as they begin their senior year back in France, Isla and Josh are forced to confront the challenges every young couple must face, including family drama, uncertainty about their college futures, and the very real possibility of being apart.
Featuring cameos from fan-favorites Anna, Étienne, Lola, and Cricket, this sweet and sexy story of true love—set against the stunning backdrops of New York City, Paris, and Barcelona—is a swoonworthy conclusion to Stephanie Perkins's beloved series.
My Rating :
4 of 5 stars
My Thoughts :
Oh, wow.
In the spirit of the rest of the series, Isla and the happily ever after had manage to deliver a quick, fun and fluffy contemporary lite. This book promises to be the kind of romance that seizes you by the senses and takes you for a colorful grandeur down the street of Manhattan, Paris and Barcelona, with a set of contrast characters that are likable.
I really enjoyed reading Isla and the Happily Ever After, even though at times the romance felt too rushed and hormones took over the plot. Nonetheless, Stephanie Perkins did a great job writing a contemporary young adult romance that explores shades of a relationship in terms of depth.
Isla, who is sort of hopelessly romantic girl, had a crush on introspective cartoonist Josh. And what are odds when the guy you have a crush on also have a crush on you? After confronting their feelings, Isla and Josh's budding romance took a slightly rocky turn, and like every other couple they faced ups and downs in this blossoming love affair. Isla wan't as ebullient as Anna or Lola, but she had her own genuine appeal. And Josh, though he lacked the charm of Etiénne or Cricket, he still managed to make his way in my heart.
I can't deny that there is something adorable about this story, something playful and whimsical and sensual in its story-line. The part where Josh painted on Isla, transforming her into a beautiful portrait with the strokes of his brush, was probably one of my favorite scenes.
"Oh." My shoulders sag. "You want to draw."
"Yes. You"
That perks me up. I try to hand me a sketchbook, but he refuses it.
"No," he says. "I want to draw on you."
And…
"I open my eyes before a full-length mirror. I'm covered in garden rose, spinning compasses, falling leaves, desert islands, Joshua trees, and intricate geometric patterns. It's beautiful. I'm beautiful."
Perkins knows how to capture captivating moments like this, weave them in words and with a magician's skill, she makes the scenes come alive with perfect execution and intensity, leaving us with a sore heart. It is the best kind of feeling, the thrill of story we feel to the bones.
As final verdict, Isla and Happily Ever After lived up to my expectation, offered me a sort of satisfaction I have been craving for a long time.
View all my reviews