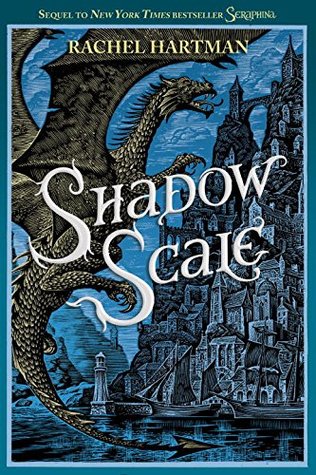 Book Summary :
The kingdom of Goredd: a world where humans and dragons share life with an uneasy balance, and those few who are both human and dragon must hide the truth. Seraphina is one of these, part girl, part dragon, who is reluctantly drawn into the politics of her world. When war breaks out between the dragons and humans, she must travel the lands to find those like herself—for she has an inexplicable connection to all of them, and together
they will be able to fight the dragons in powerful, magical ways.
As Seraphina gathers this motley crew, she is pursued by humans who want to stop her. But the most terrifying is another half dragon, who can creep into people's minds and take them over. Until now, Seraphina has kept her mind safe from intruders, but that also means she's held back her own gift. It is time to make a choice: Cling to the safety of her old life, or embrace a powerful new destiny?
SHADOW SCALE is supported by a national marketing and publicity campaign that includes a national author tour, a dedicated series website, and outreach to media outlets. For more information, visit
SeraphinaBooks.com
.
About The Author :
As a child, RACHEL HARTMAN played cello, lip-synched Mozart operas with her sisters, and fostered the deep love of music that inspired much of her award-winning debut novel, Seraphina. Born in Kentucky, Rachel has lived in Philadelphia, Chicago, St. Louis, England, and Japan. She now lives with her family in Vancouver, Canada. To learn more, please visit
RachelHartmanBooks.com
and follow her on Twitter
@_rachelhartman
.
Giveaway
Thanks to the folks at Random House, for offering one copy of Shadow Scale to give awayr.
Giveaway Rules
To enter, please fill out the Raffelcopter form below.
All entrants must be at least 13 years or older.
The giveaway is open to USA/CAN only. (Sorry international folks.)
The winners will be announced here and will be emailed.
Please enter your email address in the Rafflecopter form and not the comments.
a Rafflecopter giveaway