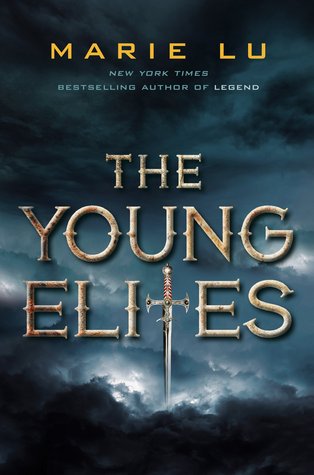 Book Summary :
I am tired of being used, hurt, and cast aside.
Adelina Amouteru is a survivor of the blood fever. A decade ago, the deadly illness swept through her nation. Most of the infected perished, while many of the children who survived were left with strange markings. Adelina's black hair turned silver, her lashes went pale, and now she has only a jagged scar where her left eye once was. Her cruel father believes she is a malfetto, an abomination, ruining their family's good name and standing in the way of their fortune. But some of the fever's survivors are rumored to possess more than just scars—they are believed to have mysterious and powerful gifts, and though their identities remain secret, they have come to be called the Young Elites.
Teren Santoro works for the king. As Leader of the Inquisition Axis, it is his job to seek out the Young Elites, to destroy them before they destroy the nation. He believes the Young Elites to be dangerous and vengeful, but it's Teren who may possess the darkest secret of all.
Enzo Valenciano is a member of the Dagger Society. This secret sect of Young Elites seeks out others like them before the Inquisition Axis can. But when the Daggers find Adelina, they discover someone with powers like they've never seen.
Adelina wants to believe Enzo is on her side, and that Teren is the true enemy. But the lives of these three will collide in unexpected ways, as each fights a very different and personal battle. But of one thing they are all certain: Adelina has abilities that shouldn't belong in this world. A vengeful blackness in her heart. And a desire to destroy all who dare to cross her.
It is my turn to use. My turn to hurt
My Rating :
4 of 5 stars
My Thoughts :
The Young Elites, a fine attempt of high fantasy by author Marie Lu, was successful in equal measure in doling out proper execution and satisfaction. Prior to The Young Elites, I have only read the author's Legend, a dystopian, and was genuinely thrilled about this one.
The Young Elites is sort of book, so dark, that will liquefy your innards and make you wither inside. Told from the perspective of four characters, every one of whom played unique and equally important role in the story, the book delivered an unusual a poignant tale of trust, anger, envy and love.
The main character, Adelina Amouteru, lives in a world hell ravaged by blood plague. Decades ago, the illness caused deaths of many, and the infected children who survived were left with markings and some possessed strange power. Adelina's black hair turned silver, her eyelashes went pale, and a jagged scar marked where her left eye once was. Abused by her cruel father, who believes her to be a malfetto, Adelina accidentally killed him, and was sentenced to be burned on stakes. Rescued by the mysterious leader of Dagger Society—a group of malfettos like her—Adelina was now hell bent on revenge, and destroy all those who wronged her. Adelina was a intimidating creature to behold. Despite all her darkness, bitterness and anger, it was easy for me to relate to Adelina's character.
Enzo was the former crown prince to the throne, believed to be dead and now a malfetto keeping his identity secret behind his silver mask. He played a vital role in shaping Adelina's power and future. And, as did Teren Santoro, another dark character with his own secrets, and the leader of the Inquisition Axis. He's twisted and manipulative, even darker than Adelina herself. His hatred towards malfettos was palpable. He believed them to be abomination, his purpose to destroy them all. He was my favorite character of all. Ah, how can I deny my attraction to damaged souls?
The beginning was a bit slow, but quickly sped up, and I found myself I was instantly swept into the story. I finished the book in exactly two sittings, and can say the writing has improved a great deal from the author's previous series; the prose, the gritty description, the setting, all were expertly done. Not to mention the ending was EVIL, but in a good way. It left my skin crawling with anticipation, and stomach growling for more. I can't wait until the next in the series is available.
View all my reviews